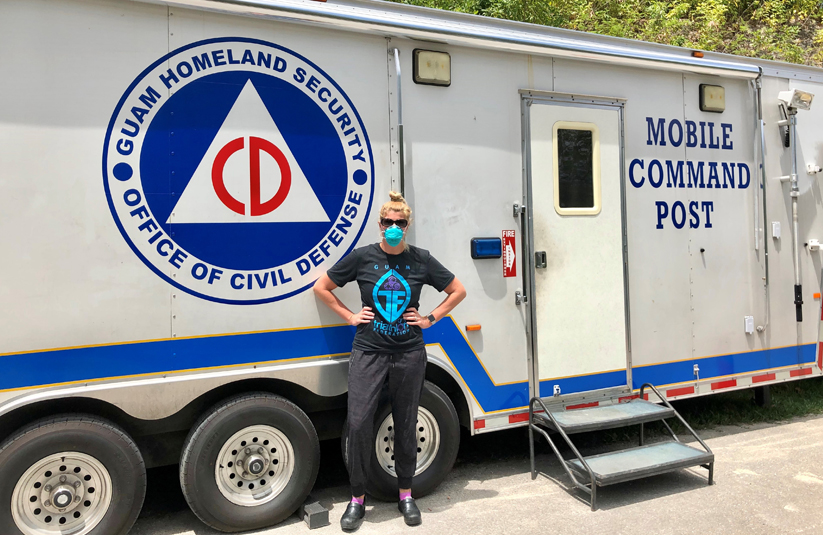 The COVID-19 pandemic has left an indelible imprint on our world. With more than 19 million confirmed cases and 700,000 deaths worldwide, it's inevitable that physicians and other healthcare workers be impacted by this disease — physically and emotionally, but also in other unexpected ways. We spoke to several physicians and healthcare professionals about their experiences with coronavirus, and they shared how it has affected them both personally and professionally.
Helping fight the virus far from home
Dr. Holly Llobet, a critical and palliative care physician, and her husband, Dr. Paul Llobet, an internal medicine physician, were working locum tenens in Guam when the pandemic began to spread worldwide. They decided to remain on Guam even though they were far from family and friends.
"We were already here when it hit, so it made sense for us to stay," Holly says. "They have such limited resources and limited doctors on the island we didn't want to leave them high and dry, especially since we have been here for several months and feel connected to the island now."
Paul says no matter the size of the location — be it Texas or a small island like Guam — the pandemic has left healthcare workers feeling overwhelmed and in need of support.
Learning and adapting as you go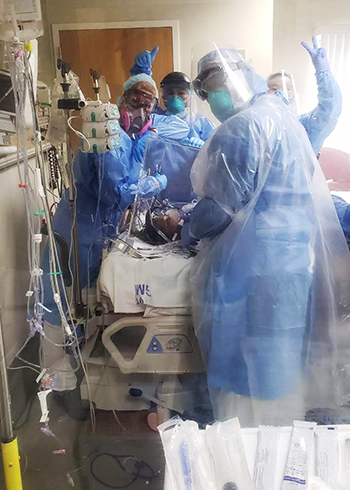 A hospitalist working locums in Walla Walla, Washington, said that although this town of just 45,000 saw only a few infected patients at the beginning of the pandemic, cases have since surged.
"There were a few cases there and unfortunately it didn't go well as far as survival," he says, "but lately we've seen a surge of cases."
He describes it as a learn-as-you-go experience, a view that has been reported by many physicians treating COVID-infected patients.
"It is hard to tell whether whatever we are doing is actually helping," he says. "If you ask me personally, I think employing steroids has made a difference. In my personal sense, there is a lot of inflammation in some of the patients that we have lost, it was just an inflammatory cascade, just rolling down, like an avalanche, and it was getting out of control."
He also says he had some success using Heparin: "I would say steroids and timely and wise use of anticoagulation would be two things that I would identify as potential game changers."
Dr. Holly Llobet says they had to adapt to the equipment they had on hand and do so quickly, "It has been a learning curve. We're using a different ultrasound, a different older piece of medical equipment, it is different for the procedures. There are things you are not used to using, but also doing it from head to toe covered in PPE."
An opportunity for forward thinking
Cheryl Britton, practice manager for Te Hiku Hauora, on North Island, New Zealand, was grateful to be in a more isolated location, but said the economic hardship felt by New Zealanders certainly wasn't limited to the more populous areas. Patients hesitant to be seen in-clinic left their clinics virtually empty, leaving many physicians and nurses with little to do. Te Hiku Hauora was able to get by — with the help of government subsidies — until patients started to return, but others weren't so lucky. "A smaller practice that is operating as a private practice is much more vulnerable, like any small business, and there were some of those practices that got hit hard," she says. "Some cities had some big hits. It was challenging. In some instances, they had to terminate contracts with locums."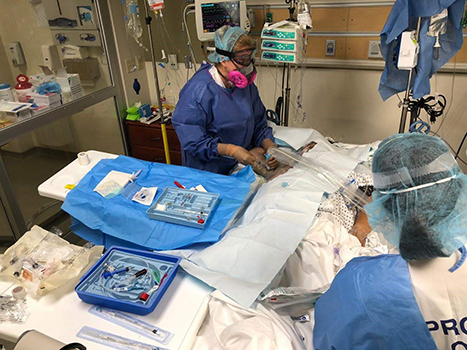 Other facilities were able to redeploy locums at community-based assessment centres (CBACs), which were implemented in an effort to keep COVID out of general practice areas. "Patients would instead go to these assessment centers and their focus was dealing with anybody who might have COVID."
Britton views this as a time for reflection and an opportunity to plan for what the healthcare landscape will look like in New Zealand after COVID. "I think the COVID period was actually our trial period, how do you do things differently. I think it is very much now how do we work into the future; it is going to be a challenge."
An emotional and physical toll
The Llobets went from working a one week on, one week off schedule, to a thirty-day straight schedule once the pandemic hit, taking only a day or two's rest before returning to work.
The long hours with little down time have taken a toll. "You work all day and don't have time to process or think about what you are doing and seeing. You get out of the hospital and sit in the car and it all just comes back," Holly says. "You must give yourself some down time to just process what is happening because people are dying and there is nothing you can do. You feel hopeless sometimes."
Still, the Llobets are optimistic. "It just reminds you what is important," Holly says. "We didn't do a very good job of keeping in touch with our families and friends and people we love until COVID came. Now we are Zooming with family or video chatting a couple times a week. It just reminds me of what is really important."
How has COVID-19 affected you in 2020? Share your story in the comments below.
Jen Hunter has been a marketing writer for over 20 years. She enjoys telling the stories of healthcare providers and sharing new, relevant, and the most up-to-date information on the healthcare front. Jen lives in Salt Lake City, UT, with her husband, two kids, and their geriatric black Lab. She enjoys all things outdoors-y, but most of all she loves rock climbing in the Wasatch mountains.