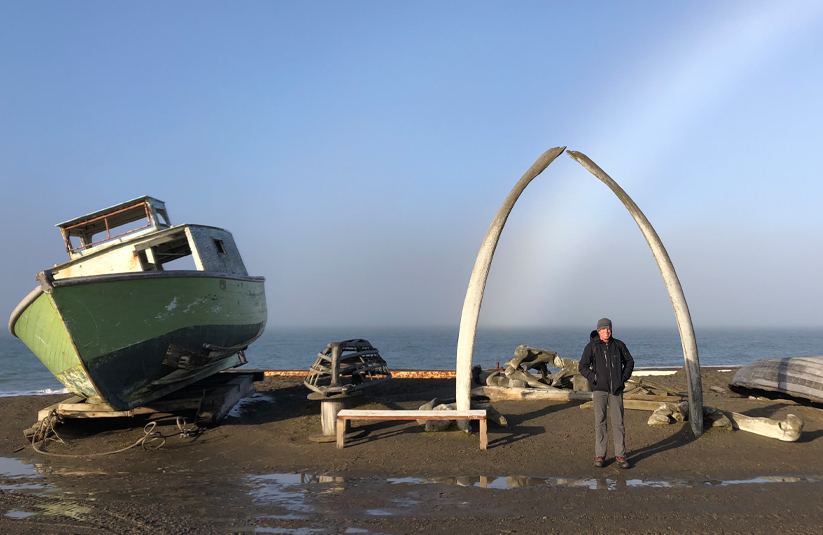 Utqiagvik, Alaska (UUT-kee-AH-vik) is not only the northernmost city in the United States, it's the ninth northernmost city in the world. Located 320 miles north of the Arctic Circle, Utqiagvik is rich in native culture and history. Archaeological sites in the area indicate the Inupiat — the native peoples of northern Alaska — lived in this area as far back as 500 A.D. Needless to say, access to healthcare in this remote region is limited, and the physicians who care for the residents here are valued and appreciated. Locum tenens physicians looking for a unique and rewarding experience won't find a better one than Utqiagvik.
The people of Utqiagvik
Being so far north, the temperatures in Utqiagvik are cool in the summer and frigid in the winter. On average, high temperatures reach above freezing only 120 days a year and can drop to 65 degrees below zero. The Inupiat have adapted well to this climate, surviving largely by hunting whales, seals, polar bears, walrus, water fowl, and caribou, and catching fish from the Arctic Ocean or nearby rivers and lakes — a practice that's served them well for over a thousand years. Traditionally, no part of the animal is left unused, with much of the meat replacing vitamins and nutrients of fruits and vegetables that can't grow in the Arctic climate. The meat and blubber of each captured whale benefits every member of the Inupiat community; the hides and fur have water- and wind-proof qualities.
Caring for the population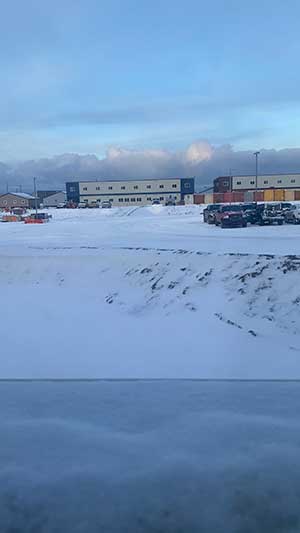 In an isolated town of just over 4,000 residents, Samuel Simmonds Memorial Hospital is the medical hub created by the Arctic Slope Native Association, serving over five villages that are only accessible by airplane.
Susan Miklavcic, senior director of medical staff services at Samuel Simmons, says their hospital is a small, critical-access hospital.
"It's a 10 bed facility, six inpatient beds, two swing beds, and two state-of-the-art labor and delivery rooms," she says. "It has a four-treatment room ED with a procedure room, and then we have our primary care clinic with a specialty clinic. We've got a dental clinic that's always up and running and an eye clinic they staff two weeks per month. It's a pretty busy building. We're also the only inpatient and commercial pharmacy in the area. Basically, if you need healthcare in our stretch of the woods, we're the only place you can come and get it."
Urgent care and family practice physician Dr. Robert Garrison, who worked multiple locums assignments at Samuel Simmons, says despite the cultural difference, the medical problems are typically the same. "There's a lot of diabetes up there, a lot of people overweight up there, a lot of hypertension, so that part is the same," he says.
Although the hospital is a state-of-the-art facility, its size is a limiting factor in the amount and type of specialized care it can provide. Patients who are critically ill or need high-risk procedures are regularly Medivaced to Anchorage.
OB/GYN care in Utqiagvik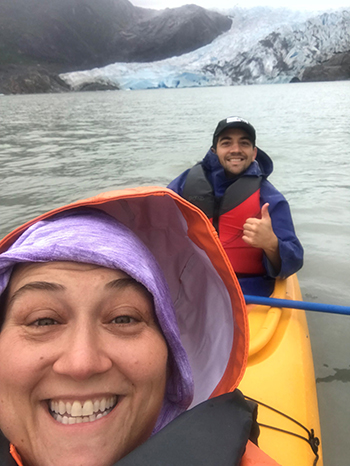 Dr. Rachael Consoli filled a much-needed OB/GYN locums assignment in Utqiagvik. When she arrived, she says she was happy to support the "heroic" family medicine physician who'd been there for 16 years, but Samuel Simmons was in dire need of a specialist — not only to provide specialized OB/GYN care, but to free up the family medicine practitioners to take care of other patient needs.
She says patients with uncomplicated pregnancies could remain in Utqiagvik with their families, but for complicated ones the women would have to be flown to Anchorage and separated from their families.
"The patients are so appreciative. Can you imagine — you have five children and you go to have number six, then you have to travel down to Anchorage and stay there for four weeks, stay in lodging, and not be in your home?" she says. "So for me going up there, we've helped a significant portion of women be able to stay in their home, stay with their children and their families, deliver, and go home at the end of three days like everywhere else."
The value of locum tenens
Because of its remote location, Samuel Simmons regularly depends on locums to help meet the healthcare needs of both the local community and the surrounding villages.
On her assignments, Dr. Samantha Conroy, a family practice obstetrician, family practitioner, and urgent care physician, traveled to clinics in some of the satellite villages to help care for patients who couldn't make it into Utqiagvik — flying there and back in a small plane.
She says being a locums in that part of the world requires flexibility and the ability to multitask. "They don't have as much ability to diagnose things in those locations," she says. "It's pretty limited, and I think it's hardest when you have emergencies or patients who are having pregnancy-related issues. It's pretty difficult to manage those kinds of things over the phone. We do end up flying a lot of the patients back and forth just to be seen in Utqiagvik or in Anchorage."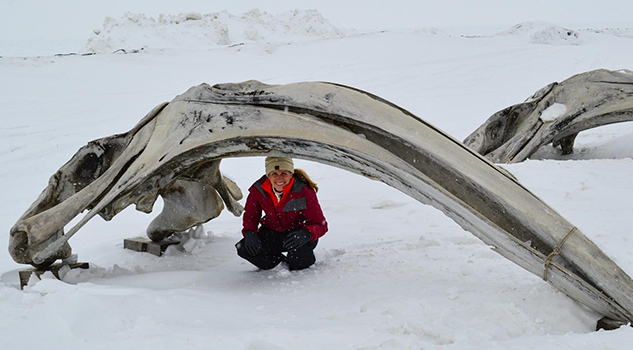 Dr. Conroy was also impressed with how the facility managed those patients needing additional care. "The facility has quite a good system to deal with emergencies. They have their airplane that will come. It's on standby to get the patients and take them wherever they need to go. It's pretty impressive. They seem to really be able to make it work."
Enjoying time off in an Arctic climate
When she wasn't working, Dr. Consoli says she loved to go for longs walks, catch up on her reading, and — weather permitting — take in some of the downtown festivities. One big annual event is the Barrow Whaling Festival held in June, where the Inupiaq give thanks for a successful hunting season.
On one locums assignment, Dr. Garrison was lucky enough to spot a polar bear walking on the frozen ocean, and loved the ability to enjoy once-in-a-lifetime experiences — the bitter cold being part of it. He enjoyed hiking, photography, and searching for snowy owls.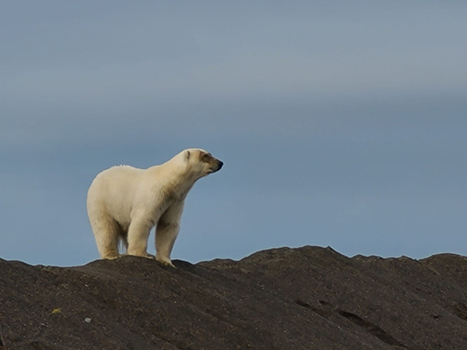 "To be able to walk on a frozen ocean and see all these ice formations and a polar bear!" he says. "You go up to the Arctic just for a new experience. I'd never experienced minus 20 degrees and the wind blows 20 miles per hour. You get your hand out of the glove more than a minute, and you've got frostbite. That was part of the experience: the cold, the frozen ocean, incredible sunsets over this frozen ocean, working with a new culture, all of it was appealing to me."
Dr. Conroy also loved the uniqueness of the environment. Her first assignment was in February, so she didn't see much sunlight — and it was cold.
"I'm a super outdoors person so I like being outside especially on my time off. When it's so cold outside, it's actually dangerous to go out," she says. "I really was inside almost 24/7 for the month that I was up there, so it was pretty difficult. We did get out a little bit here and there just to see some interesting sights."
Her second assignment there was in the summertime. "People are out fishing and doing the whaling and subsistence living at two o'clock in the morning," she says. "It's very interesting. And to help us sleep, we just put aluminum foil over the windows and that really helps block the sunlight really well. I just had my bedroom always very dark."
An experience of a lifetime
Whether you're interested in practicing medicine in a unique environment, immersing yourself in the culture of a centuries-old Alaskan Native population, experiencing a couple straight months of sunlight or night, or taking hikes in the Arctic while wildlife watching, a locums assignment in the northernmost city in the United States may be the right opportunity for you.
Interested in learning more about working locums in Alaska? Give us a call at 1.866.858.6269 or view today's locum tenens jobs in Alaska.
Jen Hunter has been a marketing writer for over 20 years. She enjoys telling the stories of healthcare providers and sharing new, relevant, and the most up-to-date information on the healthcare front. Jen lives in Salt Lake City, UT, with her husband, two kids, and their geriatric black Lab. She enjoys all things outdoors-y, but most of all she loves rock climbing in the Wasatch mountains.