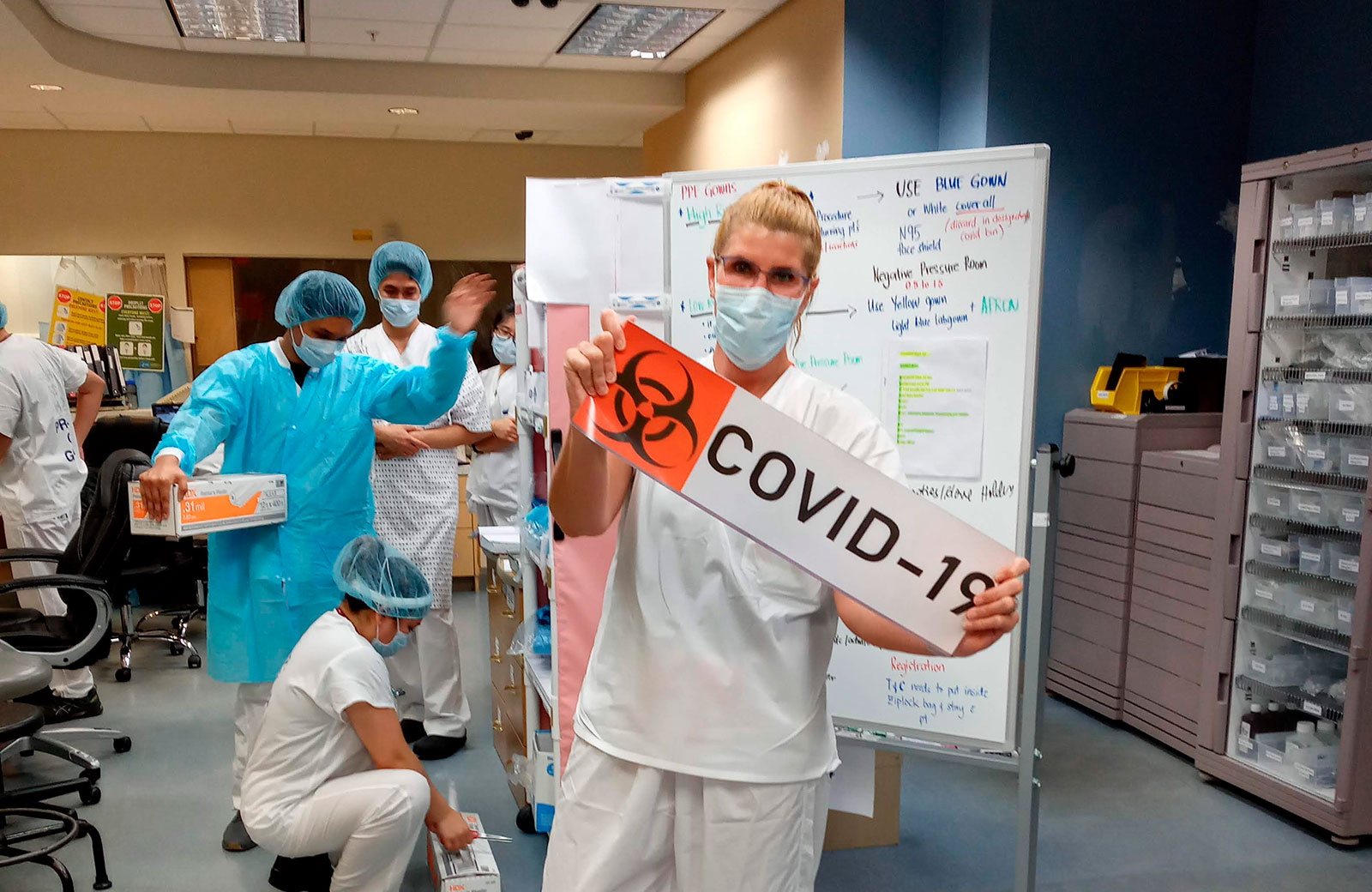 For National Locum Tenens Week (Aug. 10–14, 2020), we're pleased to honor Drs. Holly and Paul Llobet for their efforts fighting COVID-19 in Guam. Here's their story.
Physicians who take an international locums assignment understand it will be a unique experience. They'll need to get used to a new country, a new culture, and a different way of practicing medicine. But when Drs. Holly and Paul Llobet decided to work locum tenens in Guam, they didn't anticipate the arrival of the COVID-19 pandemic in the middle of their assignment. The experience proved to be one of the most memorable and harrowing of their careers.
The decision to do locums
The Llobets had been practicing medicine for about 16 years when they realized they needed something different. "I had worked at the same hospital for ten years, so I literally could do the job in my sleep," says Dr. Holly Llobet, a critical and palliative care physician.
The two weren't strangers to practicing medicine in different settings, however. Dr. Paul Llobet, an internal medicine physician, says, "We started our career in Mexico in medical school, which was very limited in resources back in those days. Then we went to New York City, and finally we moved to upstate New York where we were the only doctors in the county in a small hospital."
Because of that background, when the couple arrived in the U.S. Territory of Guam last December for a six-month locums assignment, Paul says it wasn't overwhelmingly stressful. That is, until a new virus started sweeping across the planet.
COVID-19 in Guam
When the COVID-19 pandemic hit, the Llobets decided to stay in Guam and finish out their assignment. "It made sense for us to stay here," says Holly. "We didn't want to leave them, and our contract goes through May, so they were counting on us even before corona hit."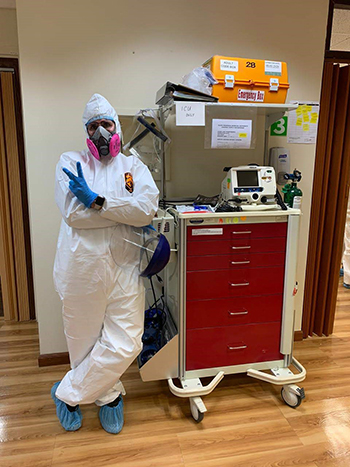 The island has two civilian hospitals, Guam Memorial Hospital (GMH) and Guam Regional Medical City (GRMC). Both Paul and Holly had been working at GRMC prior to the pandemic, but things changed when the island started seeing cases. "Originally I started out at GRMC with Paul," says Holly. "When the governor deemed one hospital COVID and the other non-COVID, they asked if I could come help out at the COVID hospital because they needed an intensivist."
Dealing with COVID-19 in Guam has changed how Holly interacts with patients and does her job. "At first it was really scary," she says. "Now it has been three weeks, and we're pretty used to all of the PPE and respirators and face masks. It changes everything you do because it's so hot to wear all of that, you can't see well, you can't hear anything, and it's difficult to breathe with the respirators on. Everything you do is more difficult."
The couple explains that flexibility has been the key to getting through their shifts. "You are constantly having new information and having to change everything that you thought we were doing right," says Paul.
Holly agrees. "Everybody is learning as we go, because this is a new disease. We are changing our practice every couple of days depending on what information is coming out. When you're not seeing patients, you're constantly reading, trying to figure out things that might work."
An unexpected assignment
The outbreak changed what had been a leisurely one week on, one week off schedule to a much busier assignment. She had worked thirty days straight at the time of the interview and was scheduled to work another thirty days straight.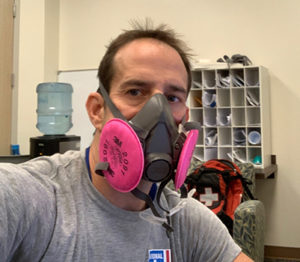 Yet despite the crazy schedule, she says that the hospital has taken great care of their doctors. "They bring meals three times a day, make sure we're getting rest. They've been really conscientious to not burn us out." Local restaurants and shop owners have been donating food and supplies to the healthcare workers, even going as far as making special meals to accommodate her vegetarian diet. "The whole island is taking care of us."
Paul is equally appreciative of the way the community in Guam welcomed them. "Don't underestimate the small facilities or the comradery of a community, or the love of an island. We have been blown away by the commitment of the people here and the quality of medicine that is provided. It's been amazing."
Advice to other healthcare workers
Both Paul and Holly know that COVID-19 isn't going away. As they finish their assignment and eventually transition back to practicing in the United States, they urge other doctors to pace themselves and take time to de-stress. "I worked thirty days straight, but I don't necessarily feel drained," says Holly. She says getting enough sleep, eating well, and trying to exercise has helped.
Paul adds that finding a way to process what you're experiencing is crucial. "Whether that's telemedicine with a mental health counselor or connecting with family, that's very important. Find your way to find some normalcy, however that is."
A positive experience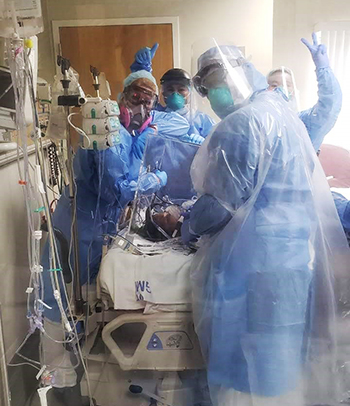 While they certainly didn't expect to confront a pandemic during their time in Guam, the Llobets see their experience as overwhelmingly positive. "It just reminds me what's important in life," says Holly. "We've been so far from our home and didn't do a good job of keeping in touch with our families and friends, and then COVID came. Now we're video chatting with family a couple of times a week, and I've become closer with friends and family than I had been before."
They've also become closer as a couple. "What locums did for my wife and I: we got a lot closer," Paul says. Holly agrees, "We're on the same schedule again so we work for a week and travel together for a week, and it's been really good for us."
Overall, Holly has nothing but good things to say about her locums experience in Guam. "It has changed my life. I'm awake again. It has completely changed my perspective on the way I practice. I like the travel, being in a new culture, in a new corner of the earth. I cannot thank Global enough for giving me this experience, COVID or non-COVID."
What have you learned from your experiences during the COVID-19 crisis? Share in the comments below.