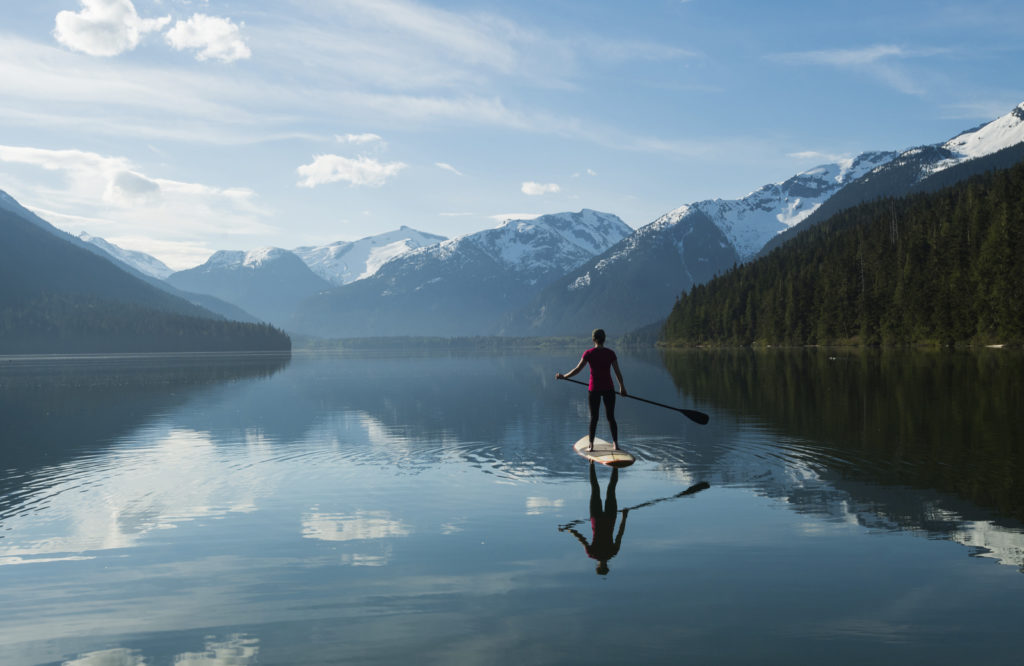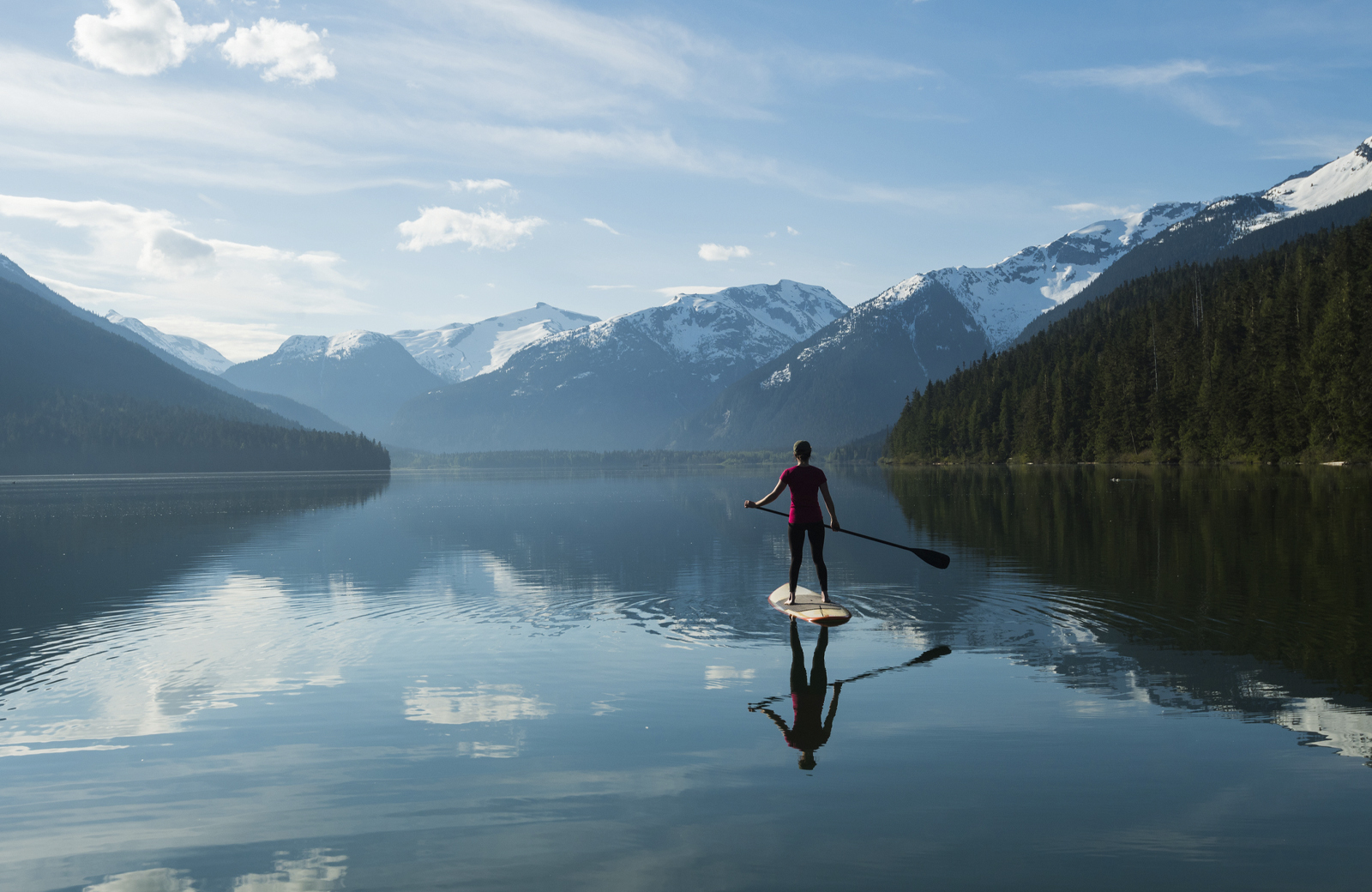 Are you interested in taking a sabbatical internationally? Physicians who are interested in living abroad, even if just for a short while, have a variety of options for practicing medicine in another country. Learn where other American doctors have practiced abroad and whether you can do telehealth from another country. Here are eight ways you can work as a doctor abroad.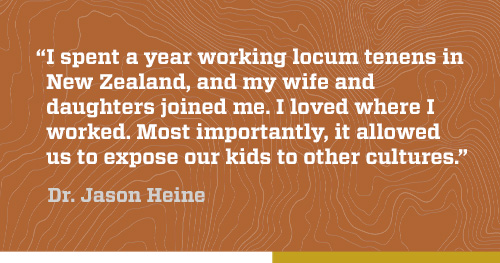 1. Take international locum tenens assignments — and earn money while you do it
This is the tried and true approach, allowing you to go on an assignment for a given period, with travel expenses, housing, and malpractice insurance typically covered as part of your contract. Global Medical Staffing also secures your work visa for you and helps you get through the credentialing and licensing process.
With international locum tenens, you can go where you want to go, see new places, and even take your family. With Global Medical managing your assignment, it's perfect for those physicians who love adventure and traveling. Also, some physicians use it to pave the way to a permanent relocation to a place they fall in love with or as a way to prepare for working medical missions.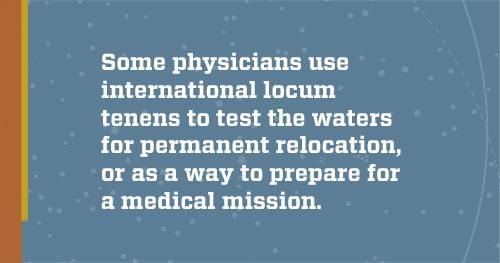 Physicians rave about the benefits of taking a sabbatical from their job or taking an assignment overseas between jobs. For instance, Dr. Elma Johnson, an emergency medicine physician, encourages others to find a way to take an international assignment.
Dr. Jason Heine, a family medicine physician, and his wife, Shauna, knew all along that they wanted to live internationally. In 2020, when New Zealand was largely insulated from the COVID-19 pandemic, they decided it was time to go, so they and their two daughters packed up and spent a year in New Zealand. "Seeing the patients was good, and working with my colleagues was a great experience," Dr. Heine says. And most importantly, it allowed them to expose their children to other cultures.
Just where can American doctors practice abroad? With Global Medical Staffing, areas include New Zealand, Australia, Guam, the Caribbean, Canada, China, the UK, and of course, the U.S. Other places we often place? Singapore, China, and the United Arab Emirates.
2. Practice telemedicine/telehealth
Telemedicine, sometimes called telehealth, has become more common since the pandemic. It uses technology to provide medical services via video directly to patients or for consultations from one doctor to another. If you decide to live abroad for a year or even longer, this may offer a way to practice as a physician remotely.
According to Health eCareers, physician specialties that go well with telemedicine include: radiology, pathology, cardiology (where EKGs are transmitted electronically for remote consultation), dermatology, and psychiatry, plus some general practice too.
You might wonder: Can you do telehealth from another country? Due to U.S. licensure and telehealth governance laws, in most cases, physicians living abroad may only treat patients within the country where they're living. For example, physicians working in New Zealand with Global Medical Staffing are sometimes assigned to treat patients remotely within New Zealand, but they typically cannot treat U.S.-based patients while abroad.
Because of these rules, Mohammad Ashori MD, who goes by "Dr. Mo," developed a telemedicine service for private patients. As he says, "You can do whatever you want if you are taking cash-pay patients, and it's your practice. It's 100% legal to reside abroad as long as you have a state license in the U.S."
3. Work as a physician consultant for an international company
If consulting interests you, it may be possible to start forging a consulting career with a global company. The benefits can include high pay, control of assignments, and possibly no need for an active medical license. You can begin by focusing on your medical expertise and parlaying it into those industries that need it, such as pharmaceutical companies or tech startups trying to get into the medical field. You may be able to pave your career path and live outside of the U.S. while doing it.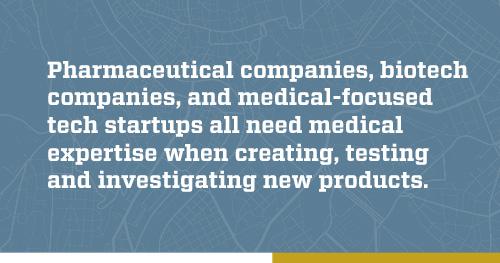 Pharmaceutical companies and biotech companies and medical-focused tech startups all need medical expertise when creating, testing, and investigating new products. "If you are someone who has always loved research, this may be a pathway of interest for you," says Dr. Maiysha Clairborne in a blog article on KevinMD. "Consider leveraging your pharmaceutical and device reps to find potential opportunities with companies of interest."
Dr. Sylvan Waller began consulting for medical-focused tech startups by first learning more about them, then doing some work for very little money to begin developing the knowledge and network to make it into a business. Read his medical consulting tips.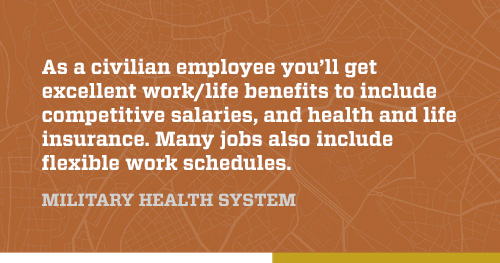 4. Practice medicine abroad on a U.S. military base
Other ways you can be a doctor abroad? You can serve your country as a civilian on military bases around the world, which opens up more places where American doctors can practice abroad, such as in Guam, the U.S. Virgin Islands, Japan, Germany, etc.
"As a civilian employee, you'll get excellent work/life benefits to include competitive salaries and health and life insurance. Many jobs also include flexible work schedules," says the Military Health System.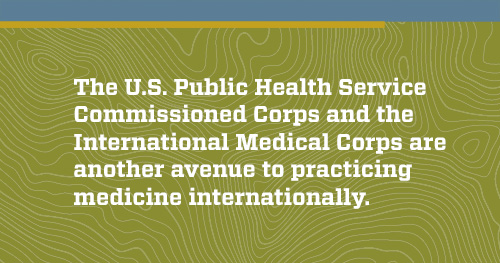 5. Work for an international non-governmental organization (NGO)
What's another way to be a doctor abroad? Make a difference on an international level by working with an organization like the SOS Children's Villages, Oxfam, Catholic Relief Services, CARE International, Doctors Without Borders, Eye Care Foundation, or HealthRight International. The number of NGOs grew from 6,000 in 1990 to more than 40,000 organizations, according to most recent estimates. Many of those focused on medical missions rely on a mix of volunteers and paid employees.
These opportunities open up a whole additional part of the globe where American doctors can practice abroad and give back to underserved populations around the world.
6. Find opportunities through your networks
When Dr. William (Wim) LeMaire, at age 55, finally decided to pursue his goal of working and living internationally, locums wasn't established like it is today. He found assignments through advertisements in medical journals and paved his way until locums became more mainstream. Today, physicians still work on their own to find long-term or short-term assignments. Of course, this comes without the support of an agency, but it is a viable option for those who want to go it alone.
7. Join a medical corps
Another way to work as a physician abroad is to join one of the corps. The U.S. Public Health Service Commissioned Corps is a uniformed nonmilitary service with a distinct uniform, insignia, titles, pay, benefits, and retirement protocols that correspond to those of the uniformed military services. According to the corps, they recruit dentists, dieticians, engineers, health service officers, nurses, pharmacists, physicians, sanitarians, scientists, therapists, and veterinarians.
Another way to put your skills to use internationally is the International Medical Corps, which puts your skills to use taking care of people who have fled their homes and have little more to their names than the clothes they wear. The IMC says another example is "training local nurses, doctors, and healthcare workers to provide quality care long after a crisis has subsided."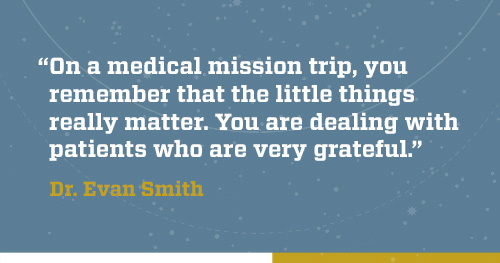 8. Give back by going on a medical mission
While medical missions typically are fully volunteer, they provide a way to use your skills where they're most needed. Physicians involved in them describe the experience as life-changing.
Family practice physician Dr. Lynn Evan Smith and OB/GYN Dr. Brent Wright jumped at the chance to share their time and skills with the people of rural Thailand.
"On a trip like this, you remember that the little things really do matter," Dr. Smith says. "You are dealing with people who are very grateful."
However you pursue your international lifestyle, it's good to know that if you're interested in practicing medicine in another country, there are many options, including working international locum tenens — and it's worth it. What physicians say is that working as a physician internationally can revitalize you and help you be a more valuable employee when you return to your job and back home to your regular life.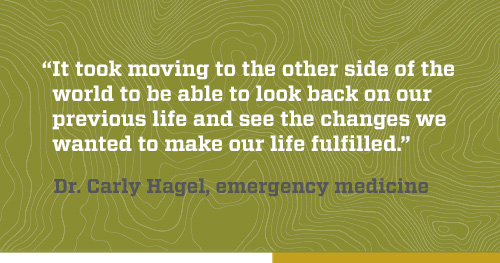 Dr. Carly Hagel, an emergency medicine physician, explains, "It took moving to the other side of the world and immersing ourselves completely in our new community to be able to look back on our previous life and see the changes we wanted to permanently make in our life moving forward."
Interested in learning more about international locum tenens opportunities for physicians? Give us a call at 855.407.6961.