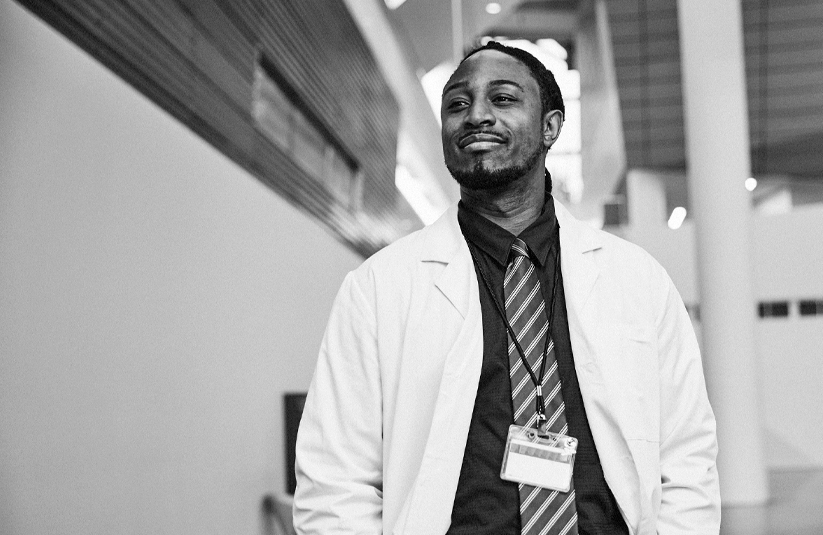 Last updated 7/12/23
Physicians can now get expedited licensure to practice medicine in most U.S. states. The Interstate Medical Licensure Compact (IMLC) allows medical doctors to move quickly through the licensure process in 39 states, plus the District of Columbia and the territory of Guam.
This is a boon for physicians interested in working locum tenens. Interested in working in Guam so you can enjoy the tropical climes and experience a new culture? Great! You can get started much more quickly. Want to escape the winter blues for some weekend shifts in sunny Texas? Awesome. Let's get you lined up.
Getting licensed in additional states is simpler with the ever-expanding number of IMLC-member states. And the IMLC process reduces the time to get a new license from months to just weeks in many cases.
GREAT PLACES TO WORK: Locum tenens in Walla Walla: Practicing medicine in rural Washington
How the IMLC works
As the IMLC explains, eligible doctors complete a single application and then receive separate licenses from each state in which they intend to practice.
As usual, the license is issued by each individual state, but because the application goes through the IMLC, the overall process is streamlined. That means that you can get licensed to practice locum tenens in more states faster and with less work.
So how do you qualify and apply? And how long does it take? Keep reading.
How you qualify for the IMLC
First, you need to declare your "State of Principal License" (SPL), where you hold a full and unrestricted medical license. To designate your SPL, you must complete an application and then receive a formal Letter of Qualification from that state. Then, the SPL shares this information with the additional states where you want to practice.
The Interstate Medical Licensure Commission explains the qualifications that are required to apply for a license. At least one of the following must apply:
Your primary residence is in the SPL
At least 25% of your practice of medicine occurs in the SPL
You're employed to practice medicine by a person, business, or organization located in the SPL, or
You use the SPL as your state of residence for U.S. federal income tax purposes
And, of course, you must be in good standing without a criminal history, have no disciplinary actions against your medical license, or be under investigation.
You must:
Have graduated from an accredited medical school or a school listed in the International Medical Education Directory
Have successfully completed ACGME- or AOA-accredited graduate medical education
Have passed each component of the USMLE, COMLEX-USA, or equivalent in no more than three attempts for each component
Hold a current specialty certification or time-unlimited certification by an ABMS or AOABOS board
Following these standards, about 80% of U.S. physicians already meet the criteria for licensure through the Compact.
States and territories that offer expedited licensure through IMLC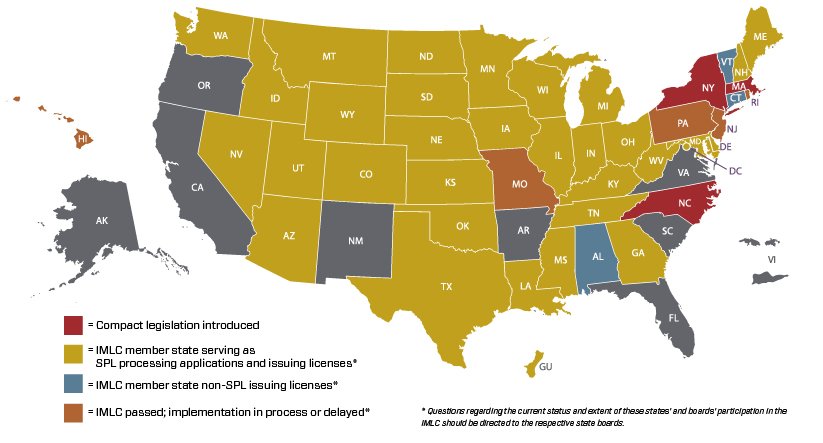 Many states have elected to join the IMLC voluntarily to help address the physician shortage. To participate, a state's legislature introduces and enacts a bill authorizing the state to join. Current IMLC member states and territories include:
Alabama*
Arizona
Colorado
Connecticut*
Delaware
District of Columbia
Georgia
Guam
Hawaii**
Idaho
Illinois
Indiana
Iowa
Kansas
Kentucky
Louisiana
Maine
Maryland
Michigan
Minnesota
Mississippi
Missouri**
Montana
Nebraska
Nevada
New Hampshire
New Jersey**
North Dakota
Ohio
Oklahoma
Pennsylvania**
Rhode Island**
South Dakota
Tennessee
Texas
Utah
Vermont*
Washington
West Virginia
Wisconsin
Wyoming
*Alabama, Connecticut, and Vermont are not current "States of Principle Licensure" (SPL), which means you are able to get a license issued for these states through the compact if you qualify through another SPL state. None of these states qualify as a SPL state for licensing in other states.
**Hawaii, Missouri, New Jersey, Pennsylvania, and Rhode Island have passed legislation to join the compact, but implementation is still in process or has been delayed.
GREAT PLACES TO WORK: Locum tenens in Montana: Practicing medicine in Big Sky Country
States working on joining the IMLC
States with pending legislation to join the compact include:
Massachusetts
New York
North Carolina
So, for physicians interested in working locum tenens, the IMLC significantly simplifies and speeds up the licensing process to take locums assignments in more parts of the nation.
To learn more about getting licensed through the IMLC, give us a call at 1.866.858.6269 or watch additional videos from the IMLC.