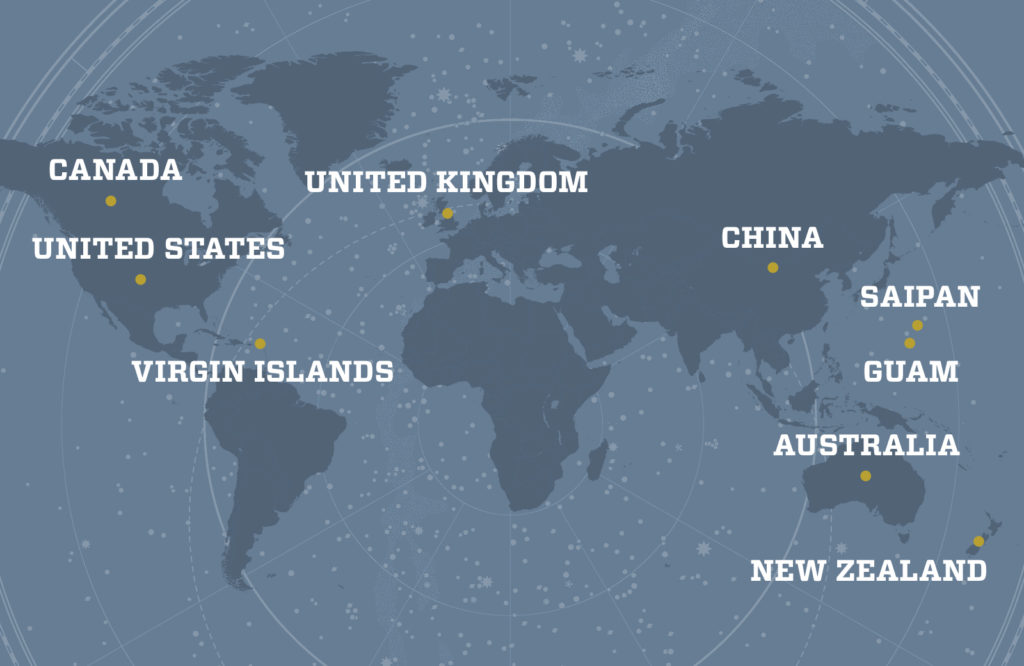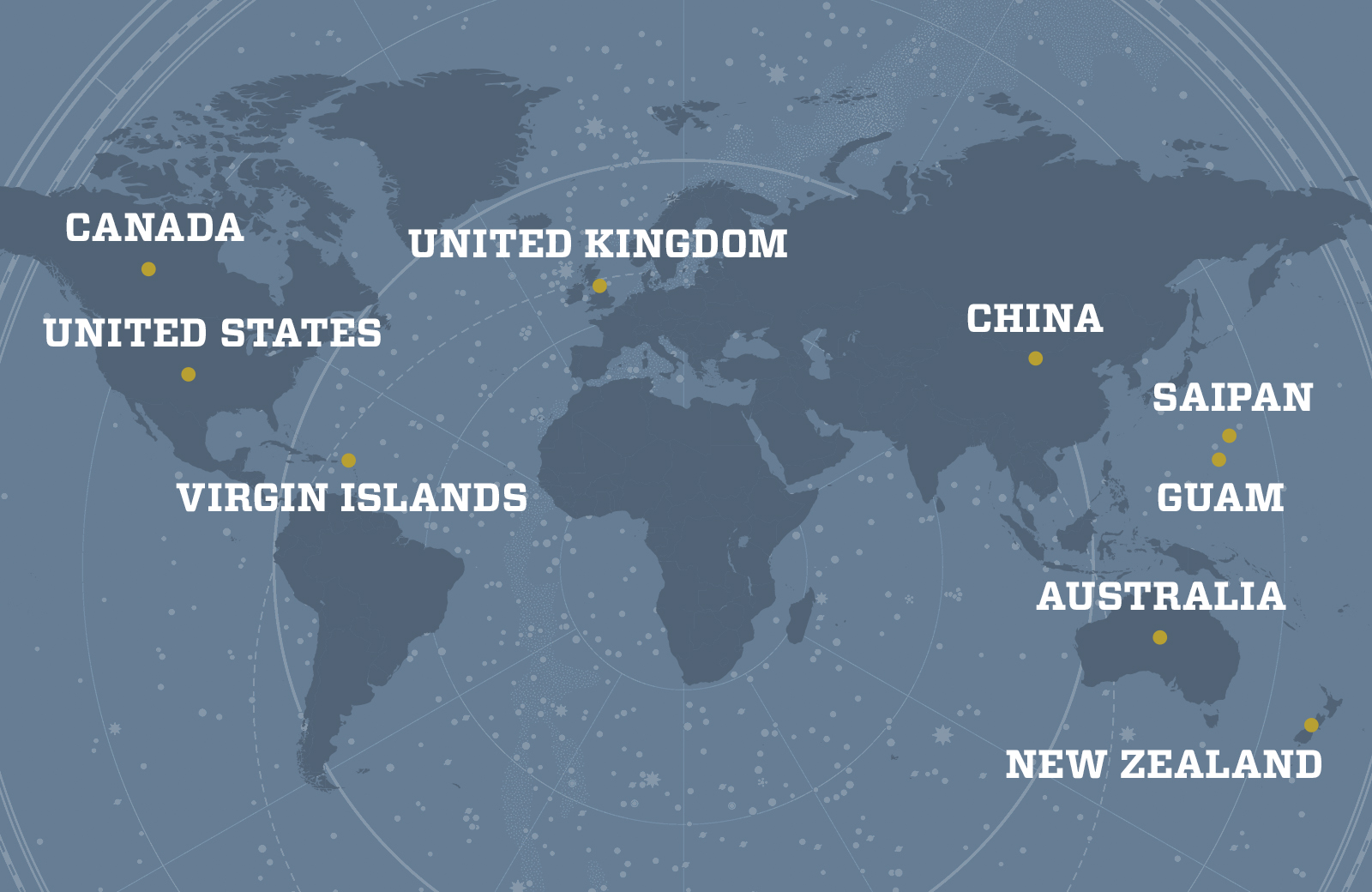 Ever wonder what physicians get paid while on locum tenens assignments overseas? In this article, we take an honest, transparent look at physician pay in other countries, as well as why so many doctors take an assignment in a location like New Zealand even though the pay is typically less than they can make in the U.S.
Physician pay in other countries
So how much do locum tenens physicians get paid in other countries? Here's a simple comparison for the countries where Global Medical has filled locum tenens contracts. On average:
Guam pays: 100% of domestic U.S. pay
Canada: 88%
Virgin Islands: 82%
China: 77%
Australia: 65%
Saipan: 56%
New Zealand: 34%
United Kingdom: 34%
To make this comparison, we took the average annual physician salary for these locations as calculated based on our locum tenens contracts and compared it with the U.S. average annual physician salary reported in the Medscape International Physician Compensation Report 2021, which is $316,000. Salaries vary by specialty, and locums pay will vary according to specialty and assignment as well, but the comparison gives you a good idea of what to expect for physician pay in other countries.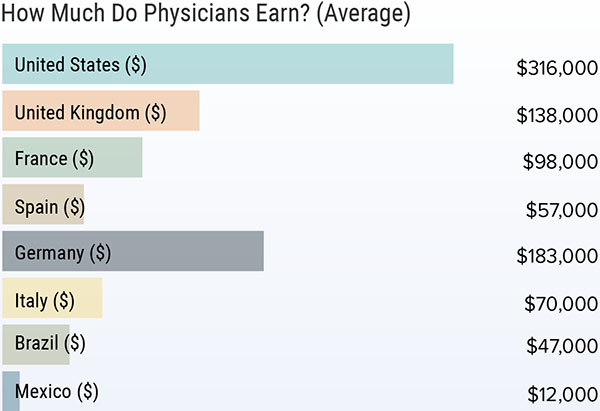 Chart credit: Medscape.com
The Medscape report highlights similar differences in pay between the U.S. and countries in Europe and South and Central America. These numbers reflect compensation for permanent staff physicians rather than locum tenens doctors.
United Kingdom: 44%

France: 31%
Spain: 18%
Germany: 58%
Italy: 22%
Brazil: 15%
Mexico: 4%
Why physicians work locums internationally
To be sure, working locums in other countries is an enriching experience even if pay in some locations is lower than in the U.S. For instance, physicians typically don't go to New Zealand for the money. They go because:
It's unlike anywhere else in the world
They get several weeks of paid time off
They work 40 hours a week with no overtime or call time
They can use their time there not only to explore New Zealand, but to travel to other parts of Asia
Additionally, one thing that can somewhat help offset the lower salary is that most of our contracts provide housing, transportation, and travel expenses to and from the assignment.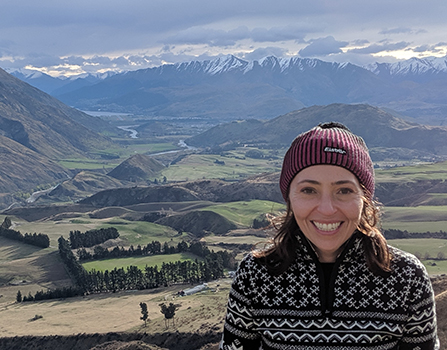 What doctors have to say about New Zealand
Infections disease physician Dr. Dalilah Restrepo took a one-year assignment in New Zealand to recharge. She says the adventure also has allowed her to bond with her adult child.
"My reasons for moving across the globe were: desire to experience a new adventure, desire to take a break from the routine I had fallen into, and to get clarity on my life goals and the professional direction of my career," she shares. "I love to travel, and it has always been difficult to visit a country for longer than seven to 10 days when you have to get back to work. Locums allows you to truly immerse in the culture."
Dr. John Gallehr, a child psychiatrist, is on his second assignment in New Zealand and was motivated to do so because his family begged him to go and take them along. "New Zealand has to be the most beautiful country in the world. The Lord of the Rings movies and the Chronicles of Narnia are all filmed here — and it's no wonder. Every time you go over another hill, it's just beautiful scenery…oceans, mountains, snow-capped Alps, rolling farmland; it's a very beautiful country."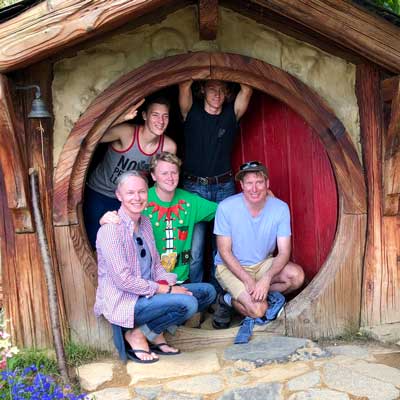 Dr. Mark Peterson, family medicine physician, says of New Zealand, "It is not a place to go and get rich; the pay is absolutely horrible. I probably made 35-40 percent of what I make in the U.S." On the other hand, he chose to go there because he wanted the unique experience. "My wife would love it if we immigrate and live there permanently because it's just such a beautiful place. We just loved being there — wonderful people, beautiful country, easy people to work with."
Dr. Jason Lambrese went to New Zealand after residency and fellowship before taking a more permanent job. While there, he and his husband did tons of traveling and looked at it as kind of a gap year. "I got to see and do a lot, and we could put the real-life stuff on hold because there really wasn't much to do except work, travel, and pay a few bills. I had that freedom to adventure and to explore a lot more than I give myself time to do here." He also enjoyed the medical work. "I felt more needed…being in the community clinic allowed me to feel like I was doing more good than maybe I would have otherwise."
What physicians say about other international locations
Dr. Raymattie Singh has so far been to Guam and the Bermudas and wants to continue to do international locums indefinitely. "When I started traveling to strange places and working as a physician, I was unbelievably happy. I feel like I learn a lot about each practice while doing international locums. I am excited about trying new foods and seeing new things, exploring, finding the hole in the wall places."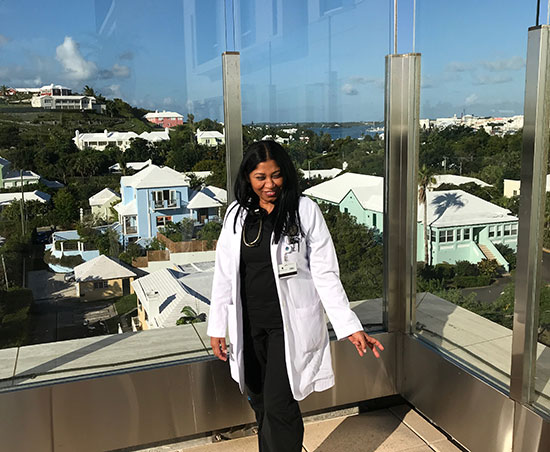 OB/GYN Dr. Kathryn Starkey says her locums assignment in Australia reinvigorated her passion for medicine and allowed her to take care of her own health for the first time in her career. She says that during her first assignment in Australia, she lost over 40 pounds, respected a 9-to-5 workday, and led a balanced life. "I now have time to read, and I love to get books about the areas where we're living and dive into them," says Dr. Starkey. "I learn the history, the geography, everything. It's fascinating."
Family physician Dr. Mike Spertus took an assignment in Australia and says that it has advanced his career and improved his medical skills. "I've definitely seen everything from newborns, to pregnant women, to adolescents, adults, and geriatric…quite a big mix. I see a large amount of mental health and also doing pain management and acupuncture too. This clinical experience has been quite valuable."
Dr. Penny Williams, who specializes in pulmonology and critical care, regularly takes locum tenens assignment in the U.S. Virgin Islands. She enjoys the experience because it allows her to get back to the basics of medicine. "It's the type of medicine that you don't get to practice in the states — you have to be adaptive," she says.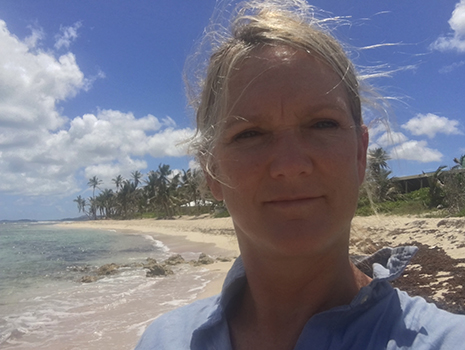 Get started on your own international adventure
For more specifics on how much you can expect for locum tenens physician pay in other countries, give us a call at 877.640.9144, or view Global Medical's locum tenens job opportunities.
Last updated Nov. 30, 2021